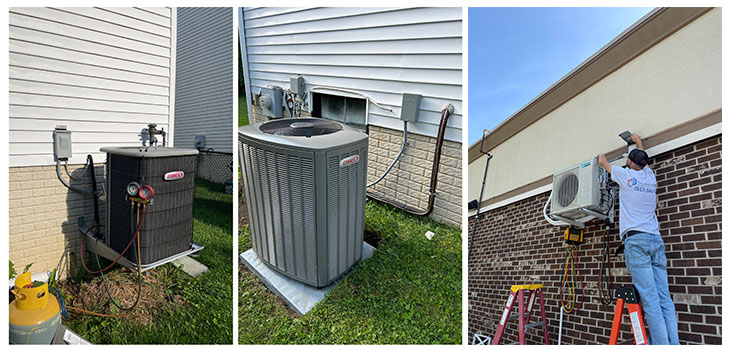 Regain Your Cool: Expert Air Conditioning Repair Services
Are you feeling the heat with your air conditioning system not doing its job at home or in your business? Is your AC central air unit struggling to cool, in need of a recharge, or completely out of commission? No matter the challenge, the skilled and friendly technicians at Precision Comfort Heating and Air Conditioning are here to swiftly identify and repair your air conditioning concerns. We specialize in all brands and types of heating and cooling equipment, ensuring a quick return to comfort.
Beat the Heat: Secure Your Summer with Precision Shield Annual Maintenance
Don't endure the sweltering discomfort of a non-functioning AC. Prevent such situations by selecting Precision Comfort Heating and Air Conditioning's outstanding Precision Shield Annual Maintenance Service Plan. Our dedicated team of experts is committed to safeguarding your home's cooling system from untimely breakdowns. Regular upkeep not only extends the lifespan of your central air system but also offers financial advantages. Embrace the season with confidence by enrolling in our maintenance plans, ensuring a smooth and pleasant summer for you and your HVAC system. Learn More
Cut Costs with High-Efficiency Air Conditioning Systems
Picking the ideal air conditioning system holds significant importance for homeowners. Typically, making the right choice revolves around three key factors: efficiency, comfort, and budget. To discover which Lennox model perfectly aligns with your home's needs, contact us today for a complimentary estimate and consultation. A skilled comfort designer from Precision Comfort Heating and Air Conditioning will arrange a home visit. The comfort advisor will detail the available heating and cooling systems suitable for your residence, presenting all choices to assist you in achieving the optimal blend of comfort, efficiency, and affordability. Learn More
Discover the Advantages of Ductless Mini-Split Systems
Experience an efficient heating and cooling solution through the innovative ductless mini-split system. This technology directly channels conditioned air to individual rooms within your home, eliminating the requirement for ducts. Referred to as mini-splits, multi-splits, heat pumps, or ductless air conditioning systems, these setups are ideal for residences lacking conventional ductwork. They're also perfect for spaces like garages, workshops, or additions. If you're looking to introduce air conditioning to a specific room without altering existing ductwork, this is the ideal choice for you. Learn More
We Offer Sales, Service, and Installation of:
Air Conditioning Installation
Residential and Commercial
New Home Construction Comfort Systems
HVAC Replacement
AC recharging
Air Conditioning Repairs
High-Efficiency Air Conditioning
Air Conditioning Repair
Maintenance Plans
Ductless Mini Split Systems
Central Air Repair
AC Repair
Gas Lines
Ductwork Repairs and Replacements
UV Germicidal Lights
Smart Thermostats
Affordable Pricing
Lennox Dealer
Indoor Air Quality Installation
24/7 Emergency Services
Whole House Humidifiers
Whole House Air Purifiers
When it comes to getting the best heating and cooling equipment or service, the only name you need to know is Precision Comfort Heating and Air Conditioning.
Contact Us